OUR STORY
ABOUT US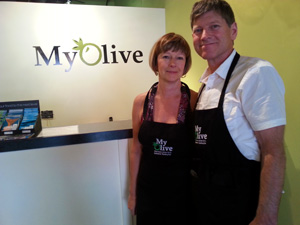 MyOlive is a family business run by Robert Pineau and Sandy Pretty.
We discovered this product in Charlottetown, PEI in the summer of 2011. The second we went into "Liquid Gold" in Charlottetown, we were hooked and that included our young daughter. The quality, taste and freshness took our breath away. We love food and are always trying to be aware of what we are putting into our bodies...well until you have tasted this product you have no idea what you have been missing.
After investigating further into this industry we were appalled at the low quality "Extra Virgin Olive Oil" that is offered to the average consumer who feel they are getting EVOO & benefiting from the Mediterranean Lifestyle. Same with balsamic vinegars, you really need to know what you are buying to ensure you are not getting anything genetically modified.
Our mission is to provide you with the highest quality products available and we are continually sourcing new products to ensure we fulfill our promise to you.
When you come and visit us in beautiful Port Credit, you will enjoy a very clean and fresh environment. Our product is showcased in crisp stainless steel Fustis,which are the containers that hold and protect our product. Each Fusti is labeled with a detailed description of the product so that there is no guessing involved. We have a lot of product, "over 60 choices of Super Premium Olive Oils and Balsamics" and that can be overwhelming. That is why we encourage you to take your time and taste or ask us or our staff for suggestions. Then we prepare your selection right in front of you so you know exactly what you are buying.
We hope to become your favourite store for enhancing your everyday cooking, unique hostess gifts and much more.
See you soon