OUR STORY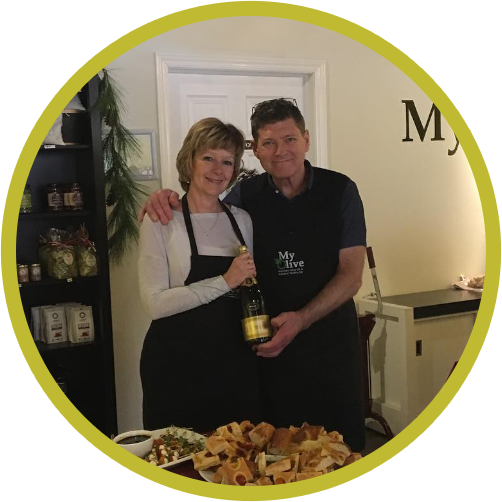 The My Olive Story is one of finding love and unbridled passion for a product that is the pinnacle of healthy eating and new adventures in food.
This story actually starts way back in the summer of 2011 when happy couple and My Olive owners, Robert Pineau and Sandy Pretty, were visiting Charlottetown, Prince Edward Island.

Here they happened upon a little shop called "Liquid Gold" where, along with their young daughter, they became instantly hooked on the quality, taste and freshness of the products offered.

Having a passion for food and always aware and paying attention to what they put in their bodies, the olive oils they had stumbled across was breathtaking and if you haven't tasted them, you really have no idea what you have been missing.

Upon further investigation and study of the industry, they were appalled at the abundance of low quality "Extra Virgin Olive Oil" being passed off as premium EVOO and being offered to the average consumer who felt they were getting the benefits of a quality Mediterranean Lifestyle.

This also applied to the Balsamic Vinegars. The average consumer wasn't educated on quality and the concerns of getting a sub-standard product that has been genetically modified.

Needless to say, it quickly became Sandy & Robert's mission to not only provide the consumer with the highest quality olive oil and vinegar products, but to also be available to provide information and education so the consumer can make informed decisions on the quality of products they are putting in their body.

When you come in and visit either of the Ontario based My Olive locations; Port Credit & Roncesvallles & The Food District in Square One, you can expect to experience a very clean and fresh environment. The products are showcased in crisp stainless steel containers, known as 'Fustis'. Each Fusti is clearly labeled with a detailed description of the product contained within.

My Olive has a wonderfully huge selection of over 60 choices of Super Premium Olive Oils and Balsamics. They understand that this can be a little overwhelming, so they provide knowledgeable staff to answer any questions and who encourage you to take your time in tasting the flavours you are interested in.

Visiting a My Olive location is not just a trip to the grocery store, it's a trip to boutique shop and should be treated as an experience or activity. It's this atmosphere and these products that Sandy & Robert hope will keep you coming back for more to enhance your everyday cooking, offer unique gift ideas and so much more!

See you soon at My Olive Premium Olive Oil & Balsamic Tasting Bar.