OLIVE OIL & BALSAMIC PAIRINGS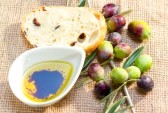 With over 60 Olive Oils and Balsamic Vinegars to choose from the possibilities are endless and only bound by our imagination and palette. We certainly have some of our favourites and we spend a lot of our day trying new things and experimenting with our customers. Loads of fun and there is no "wrong" combination.
It can be overwhelming and we are here to help you get started on a tasting journey that can be a lot of fun!
Also, you can find some suggestions on pairings and applications on all of our product pages.
Here are some staff and customer favourites.
Enjoy and have a Healthy Day!
Here are some new flavours that we are enjoying for the Summer!
Cilantro & Garlic White Balsamic **NEW PRODUCT***
Delicious drizzled over a salad (on it's own or with a nice Extra Virgin Olive Oil)
Drizzle over Shrimp or Chicken
Mix in with a salsa or guacamole
Rob
Tuscan Herb Flavoured Olive Oil & Italian Lemon White Balsamic
So Rob would put this on just about anything; salads and dipping for sure; instead of butter or mayo drizzle this on a sandwhich for a delicious change.
Sandy
Medium to Robust Olive Oil and 18 year style Traditional Balsamic
Might seem boring and it is far from it; lots of flavour and an entertaining hit for salads; dipping and lots of great marinades for meat; top seller at the stores and for sure an essential for every pantry.
Tara
Chipotle Flavoured Olive Oil and Maple Dark Balsamic
This is Tara's newest discovery and she has many of our customers "hooked"'; her favourite for dipping; using as a marinade for chicken and pork chops or grilled portobello mushrooms