Peach Barbecue Sauce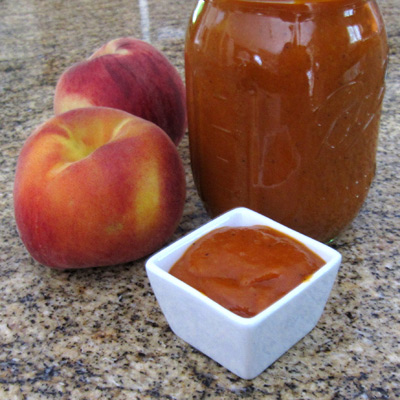 Peach Barbecue Sauce (sweet and savoury making it perfect for chicken or pork)
Ingredients
5 medium size ripe peaches
3 large garlic cloves
2 shallots
2 TBSP MyOlive Green Chili olive oil
3/4 cup MyOlive Peach White Balsamic vinegar
1/2 cup brown sugar, packed
1/4 cup tomato paste
2 TBSP of grainy Dijon Mustard (suggest our Salem's hot mustard)
1 TBSP of Worcestershire sauce
2 tsp of smoked paprika
1/2 tsp of ground nutmeg
1 tsp of sea salt
1/2 tsp of ground black pepper
Peel and Chop the peaches into 1/2 inch pieces and set aside
Mince the garlic and shallots and place them in a large, heavy bottomed saucepan with the oil
Saute over medium heat until soft and slightly brown (3-5 minutes)
Pour in the peach balsamic, scraping off any bits that are sticking to the pan; add the brown sugar, tomato paste, mustard,
Worcestershire, paprika and nutmeg. Season to taste with salt and pepper. Mix well
Add the peaches and bring everything to a boil; turn down the heat and let simmer, uncovered, for 30 minutes or until the sauce
is thick and the peaches are soft.
Remove from heat and allow to cool. Puree with an immersion blender or in batches in a traditional blender.
This will keep in the fridge for up to 2 weeks.