Rack of Lamb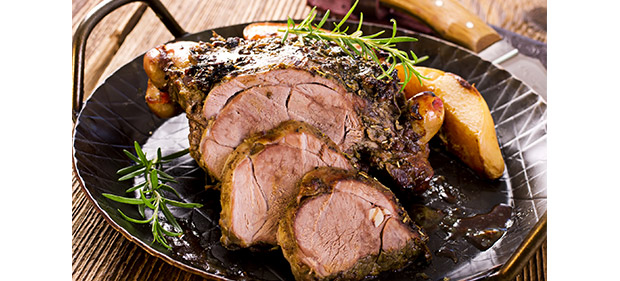 Roasted Leg of Lamb
Serves 6
Ingredients
3-4 lb bone-in leg of lamb
1 head of garlic
4 TBSP MyOlive Lemon Infused Olive Oil (divided)
2 tsp of Maldon Sea salts (sold at MyOlive)
1 tsp of smoked paprika
1 large yellow onion
1 cup of dry white wine
1/4 cup of MyOlive Apricot white balsamic vinegar
1/4 cup grainy Dijon mustard
2 TBSP of chopped fresh Rosemary
1 TBSP of chopped fresh Oregano
2 TSP fresh Thyme leaves
2 TSP grated lemon zest
Preheat oven to 450 F
Pat dry the leg of lamb with paper towel
Separate all the cloves of garlic from their skin and insert into small openings in the lamb (push the garlic in as far as possible)
Place the lamb on a baking tray; drizzle with 2 TBSP of the Olive oil and sprinkle with the salt and paprika
Roast in the oven for 10 minutes until seared and crisp on the outside; turn the leg over and roast for another 10 min.
Remove the lamb from the oven and turn temp down to 325 F
While the lamb is in the oven, cut the onion into rounds. Whisk together the remaining ingredients including the remaining Olive Oil.
In a roasting pan that will fit the lamb, place the onions in an even layer on the bottom of the pan and put the lamb on top; pour the marinade over the lamb ensuring some stays on top; sprinkle with a little extra maldon sea salt.
Cover with a lid made from foil; roast for 1 1/2 hours; baste and then roast for an additional 45 minutes; remove foil and roast for another 30 minutes.
Allow to sit for 15 minutes before carving
For a delicious gravy....
whisk 1/4 cup of the pan drippings with 2 cups of plain Greek yogurt and 2 TBSP of chopped mint; reduce over medium heat until you get your desired consistency.
Enjoy!